Gerraint's Blog February and March 2022
Hello and welcome back to my blog.
The year has gotten off to a good start. In February and March I have been able to represent Engage to Change at some exciting events.
Apprenticeship Week 2022
In February I was invited to present on behalf of the Engage to Change at the National Training Federation for Wales "Supporting Disabled People into Apprenticeships" event as part of their series of events for National Apprenticeships Week 2022. At the event, I presented on how Engage to Change uses the supported employment model to support supported apprentices. I also spoke about the role of job coaches in supporting people into employment. I also got to introduce a video of  Ffion Parsons, a young apprentice who started her apprenticeship through Engage to Change. Ffion's story is really inspiring and it was great to share it at the event. You can find out more about Ffion's experience with her supported apprenticeship here.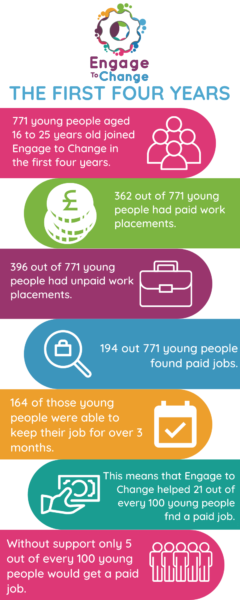 Engage to Change: The First Four Yea
rs Launch Event 
In March Engage to Change released its latest evaluation report "Engage to Change: The First Four Years" which details the impact that the first four years of the project have had. It was fantastic to see the impact the project has had. One of the findings showed that Engage to Change has supported 22 out of every 100 people who have taken part in the project into paid employment. Without support, such as Engage to Change, only 5 out of every 100 young people with learning disabilities and or autism go into paid employment.  This shows how important specialist support is to help people into employment.
To launch the evaluation report, we held a launch event via ZOOM. It was great to see so many people attend and find out about the work the project has achieved. At the event, I presented the report's findings on the impact the project had made on young people, whilst Dr Stephen Beyer presented the report's main findings. The event also included input for young people who had taken part in Engage to Change. This included Tom Oakes who shared his experience with Engage to Change with the audience. I also chaired the question-and-Answer session at the end of the event which went well. I think the event was a great success.
You can read the full evaluation report in English, Welsh, and Easy Read formats here. You can also watch a recording of our full launch event here.
 I have also been holding my monthly fun hour sessions and working on producing more top employment tips. I am looking forward to the summer months and taking part in more events.