Engage to Change supports the launch of Welsh Government's Inclusive Apprenticeships Disability Action Plan
This week Welsh Government launched an inclusive disability action plan to increase apprenticeship opportunities for disabled people. Minister for Welsh Language and Lifelong Learning Eluned Morgan published the plan on the International Day for Disabled People at an event in Cardiff held in conjunction with the Equality and Human Rights Commission.
At the heart of the plan is removing the barriers that prevent disabled people undertaking apprenticeships in Wales. Representatives from the Engage to Change project partners ELITE Supported Employment and National Centre for Mental Health were involved in the creation of the plan through a working group consisting of specialist disability organisations, identifying barriers and making recommendations. These recommendations spanned key areas including raising awareness, role models, incentives, flexibility in entry and exit criteria, and support for individuals, employers and providers.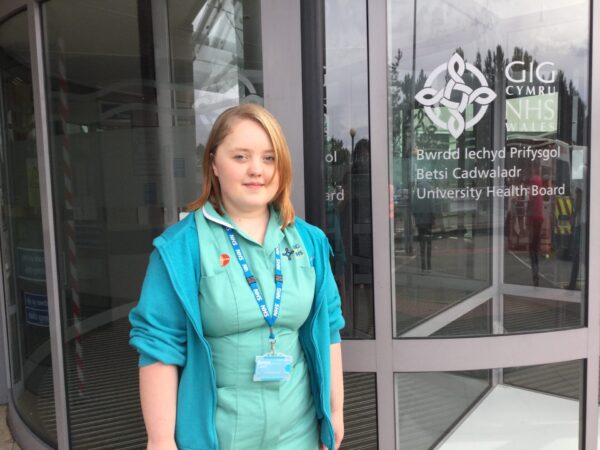 The action plan aims to help people such as Sarah-Jayne Mawdsley from Caernarfon, who is currently an Apprentice Pharmacy Assistant at Ysbyty Gwynedd in Bangor. Sarah-Jayne has Mosaic Down Syndrome, and joined the Engage to Change DFN Project SEARCH internship programme last year. The programme is funded in Wales as part of the Engage to Change project, which supports young people with learning disabilities and/or autism to gain skills and experience to move into sustainable paid employment.
"I'm just really happy that this has happened to me," says Sarah-Jayne. "From a year ago, I never thought I'd get here and it's a big deal for me. If it wasn't for Project SEARCH then I wouldn't be here at all." She's proud that she's proved her doubters wrong, and believes in her ability to achieve all that she wants to achieve with hard work and the appropriate support.
The action plan feeds into the Welsh Government's Employability Plan, which includes an action to provide an individualised approach to employability support that is responsive to an individual's needs. Engage to Change has demonstrated the importance of job coaching input and the effectiveness of this coupled with work-based training to enable young people with a learning disability and/or autism to succeed in work and sustain paid employment.
Minister for Welsh Language and Lifelong Learning, Eluned Morgan, said:
"There are not enough disabled people in work. In Wales, just 45% of working-age disabled people are currently in employment, compared to 80% of those who are not disabled. This is not acceptable. It is something I want to see change."
"This isn't a purely altruistic process. Employing diverse work groups can create better solutions to business challenges, increase productivity, and encourage creativity. Having a work force that reflects a company's customer base means they can better understand their needs and issues that affect them."
"Apprenticeships are a proven route into sustainable employment and I am proud that we have a successful Apprenticeship Programme here in Wales. However, the makeup of the apprentice cohort is far from representative of the diverse society in which we live. Encouraging disabled people to apply for apprenticeships and making sure potential employers are aware of the support that is available is vital in changing this. This is the aim of our Inclusive Apprenticeships Action Plan."