Sarah-Jayne: from DFN Project SEARCH to Apprentice Pharmacy Assistant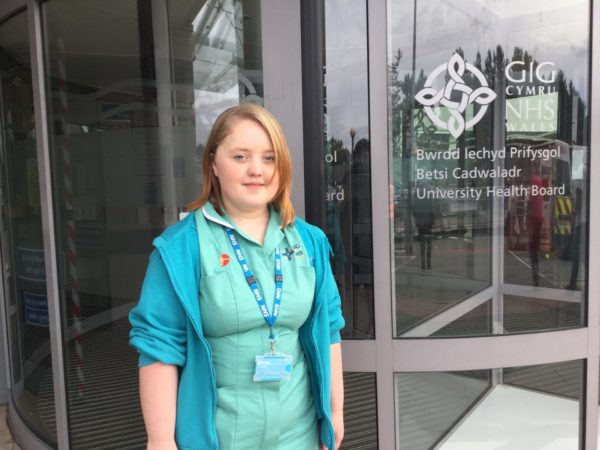 Sarah-Jayne Mawdsley was only supposed to be in the Pharmacy Department for a one-term internship last year, but today she finds herself in the position of Apprentice Pharmacy Assistant, having secured a two year apprenticeship at Ysbyty Gwynedd. "I'm just really happy that this has happened to me," says Sarah-Jayne. "From a year ago, I never thought I'd get here and it's a big deal for me. If it wasn't for Project SEARCH then I wouldn't be here at all."
Sarah-Jayne was diagnosed with Mosaic Down Syndrome at a young age. In September 2017, Sarah-Jayne began her journey towards employment with Engage to Change at Betsi Cadwaladr University Health Board. As a member of the first cohort of interns to take part in Engage to Change's DFN Project SEARCH programme in North Wales, she was entering uncharted territory.  She wasn't sure what to expect at first. But she quickly settled in in the Pharmacy Department at the hospital in Bangor, impressing her employers with her motivation and her willingness to learn.
The welcoming and open environment in the department has enabled Sarah-Jayne to thrive and develop her communication skills. "I used to be quite shy, but since I've been here everyone's been really nice to me and it's like a second family with them," she says. Pharmacy Manager Lynne Roberts agrees. "I think Sarah-Jayne as an individual has gained a lot of confidence."
Lynne also stresses the benefits that Sarah-Jayne's presence has brought to the department. "It's been a really good experience, both for Sarah-Jayne as I think she's benefitted a lot from it, but also for the department. She is a fresh pair of eyes in the dispensary so she's quite willing to suggest new ways of working, which is great for us."
Sarah-Jayne started in the distribution area filling the robot, checking the medication and its expiry date as she goes, and scanning the barcode to input the medication. Her other day-to-day tasks now include taking care of stock rotation in the storeroom, scanning paperwork, and ensuring workstations and drawers in the dispensary are fully prepared and stocked.
"She's just come on leaps and bounds with her confidence," enthuses Sarah-Jayne's mother Bethan. She says that while Sarah-Jayne used to find it difficult to communicate with people, "since working here and doing Project SEARCH she's just full of confidence and a much happier person in herself. She's had amazing support."
The support has come from a variety of sources, including from her mentors at the department, to her job coaches Rebecca and Natalie from Agoriad Cyf, to instructor Gwyn from Coleg Llandrillo Menai. Rebecca and Natalie have supported Sarah-Jayne to learn new tasks, and initially provided intensive support at the beginning of the programme. "As the weeks went on we took a step back a little bit; we realised that she was getting the hang of the tasks," says Natalie. "She became quite independent pretty quickly." Still, the two job coaches continued to drop in throughout the year to offer support to Sarah-Jayne, her manager and mentors, and to check on progress.
Sarah-Jayne is looking towards the future and to building her career in pharmacy, but not without acknowledging how far she's come and how she has surpassed the expectations of others.
"When I was younger I had all these doctors saying to me that I couldn't do this and I couldn't do that. I was diagnosed with Mosaic Down Syndrome so that's why they were saying that I couldn't do it, but I've proved them wrong, and it just feels like I can do anything that's possible for me to do."
This story has been featured on the National Lottery Community Fund's Big Blog.