Gerraint's blog September 2020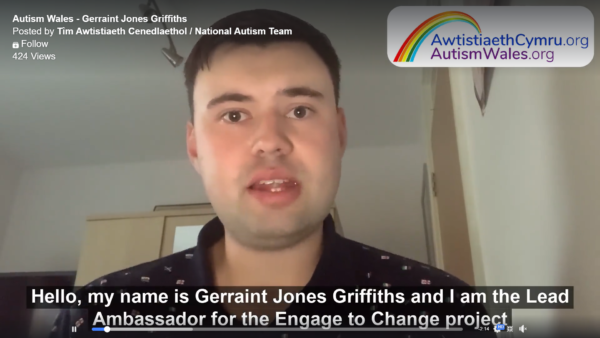 I've spoken before about my involvement with the National Autism Team's website Stakeholder Content Group.  I'm pleased to say that their new website is now up and running. I was very proud to have played a part in the design of it. You can watch a video I made about my work on the website here: https://www.facebook.com/AutismWales/videos/692927618242355/.
On 20 September Tracey Drew and I met the National Centre for Mental Health who evaluate the Engage to Change programme.  We looked at a questionnaire for the young people on the project and designed questions about what the young people think will happen at the end of their placements. For example, whether they will consider going to college or maybe looking for work independently of Engage to Change.  This will be put into Easy Read and sent out to everyone soon.
I took part in a wellbeing session with All Wales People First in September too. This was a really useful training course and helped us to look at how to manage our mental health and find a good work/life balance.
I'm still doing 'Gerraint's Fun Hour' on Tuesday afternoons at 3pm for Engage to Change participants. I have also been practising my tech skills ready for the All Wales People First's birthday event and annual conference on 7 October.
In October I will be attending an employment event where I'll be promoting the Engage to Change project – I'll be able to tell you more about that in next month's blog!