Gerraint's Blog December 2022
Our Lead Ambassador Gerraint Jones-Griffiths shares an update on what has been an extremely busy few months in his role.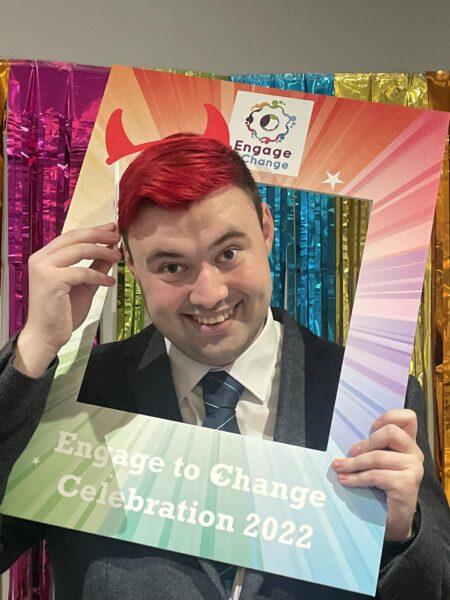 From September to December was quite a hectic few months. I am going to start with the Learning Disability Wales Cross Party Group the first meeting took place virtually back on the 21st September. I was highly honoured to be invited to this, the group was set up following discussions within the Learning Disability Consortium about the need to highlight the specific issues that people with a learning disability and their families/carers face in Wales.
The Cross Party Group is made up of Members of the Senedd from some of the main political parties in Wales and members of the Learning Disability Consortium. Learning Disability Wales is the secretariat for the group.
The Learning Disability Consortium consists of third sector organisations in Wales that represent the interests of people with learning disabilities and their families/carers: All Wales Forum of Parents and Carers, All Wales People First, Cymorth Cymru, Learning Disability Wales, Down's Syndrome Association (Wales) and Mencap Cymru.
Still staying in September, on the 30th I had the honour to be asked to attend Engage to Change Project SEARCH Bridgend Graduation Event. I have attended Engage to Change Project SEARCH Cardiff Graduation Events several times. Each time I have been mesmerised on how much each intern has achieved in the short space of time they have. You take it 9 months isn't really that long in my opinion anyway.
Moving now to October on the 22nd Engage to Change hosted the first of two Celebration Events. It was held in the Village Hotel in Cardiff. The atmosphere was electric with some fantastic entertainment. To list a few, there was a disco, photo booth, magician and we also had a fantastic singer and guitarist called Garin Lang.
Angela Kenvyn (Engage to Change Project Manager) and myself opened the evening, we presented awards to the Project Ambassadors which I had the pleasure to line manage them and they all worked extremely hard. I wanted to present them with their awards along with Angela in recognition of their dedication of service towards the project. We also presented awards to the Engage to Change Champions. The champions are project participants who had represented the project presenting at online events and making films about their journey with the project.
Moving now swiftly to November, on the 16th it was the Learning Disability Wales Annual Conference in South Wales. Ee have hosted our Annual Conference in Newport for many a year and for many delegates it is our conference home. Later in November we hosted the Annual Conference in North Wales, I will explain about that a bit later on in this edition of my blog.
Learning Disability Wales very kindly asked me to Chair their Annual Conference in both South and North Wales. The theme this year was "Where Do We Go From Here"? This was looking at how the pandemic has affected us all and how we can learn from this.
As well as Chairing the conferences, Engage to Change asked me to co-facilitate their workshops at both conferences as well. In south Wales the co facilitators were Tom Oakes (participant on Engage to Change and project champion), Andrea Meek Researcher for the National Centre for Mental Health and myself.
On the 19th November it was the Engage to Change North Wales Celebration Event, the layout was identical to the South Wales celebration event, with a disco, magician, and singer guitarist Billy Bob, not forgetting presentation of Awards to north Wales Ambassadors and Champions. It was hosted in Llandudno.
At both events I got the party going and the dancing started by doing my Elton John and Rod Stewart tribute acts. I must say both celebration events were well attended and a major success.
On the 24th of November it was the Learning Disability Wales North Wales Annual Conference this was hosted in Conwy. Likewise with the south Wales conference I Chaired the conference as well as the Engage to Change workshop, Andrea co facilitated the workshop with me, however Tom couldn't be there in person because he was working which is fantastic as it's what the project is about. Instead, we showed a video that he had pre-recorded for the north Wales workshop.
Networking this quarter included Angela and I meeting with Mel Millar from Disability Can Do, Dustin Yemm from Legacy International and Ben Morris from Hayes. They told us about their work, and we gave them information about Engage to Change.
I have also been involved with the National Autism Team; they asked me to participate in their Steering Advisory Group. This is about looking at the content from their website and at what a diagnosis means to people with Autism.
I have also been attending the Learning Disability Wales Easy Read Wales Steering Group. This group is working alongside Public Health Wales. It is looking at whether vaccines are accessible and if people understand them and why they need information in an Easy Read format.
As well as all of this I have been working with our Engage to Change project partner the National Centre for Mental Health based at Cardiff University. We have been working closely with project participants to create an accessible film explaining the latest evaluation paper provided by the research team.
Finally, in December I planned and hosted a fun quiz hour for my colleagues at Learning Disability Wales that helped everyone to get in the Christmas spirit.