Elenid follows her dream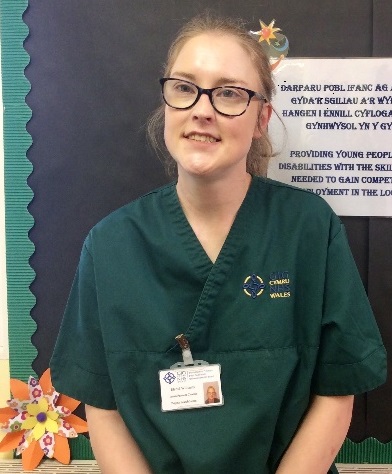 "My name is Elenid Williams and since March I have been working as a bank Health Care Assistant at Ysbyty Gwynedd during the pandemic. I am very passionate about caring for people and it has been a dream of mine to work in a hospital from a very early age."
My main responsibilities are personal care, patient observations, picking up medications from the pharmacy, handing out patient lunches and feeding them if necessary as well as keeping everything clean and safe. At the moment my shifts start at 8am and I finish at 4pm but I am working towards being able to work a 12 hour shift as well as a couple of night shifts soon".
Elenid had previously been working part-time as a waitress in a local garden centre in Caernarfon where she met a group of previous interns during their sponsored walk. She had a chat with the team and, when she learnt more about the Engage to Change project, she was excited at the possibility of being able to realise her dream to work in care.
"I had been interested in a career in care for a while and did an apprenticeship in childcare as well as volunteering on the children's ward at Ysbyty Gwynedd. I realised that I needed a bit of support to reach my goal and after speaking to the Project Search team I thought they could help me reach my goal."
When Elenid first joined the Engage to Change DFN Project SEARCH programme in North Wales she had not been in college for a couple of years and was initially worried about being the oldest intern in the group and the fact that she had not been in an academic setting for some time. However, Elenid need not have worried as she really enjoyed her training, especially when she began learning how to do physiological measurements and about the role of a health care assistant.
Elenid's first rotation was as a health care support worker on Prysor Ward then after around 10 weeks she moved on to Glyder Ward to gain more experience. Elined told us "I have been very lucky to be supported by such great teams on the wards at Ysbyty Gwynedd who have been very understanding about the way I learn. They know it takes me a little bit longer to learn things but everyone is very patient and happy to help."
The Engage to Change DFN Project SEARCH team worked closely with Elenid and the staff on the ward throughout her internship to enable her to develop her skills and demonstrate her abilities. Elined explained "I love every part of my job especially taking blood pressure, which is one part of the job I did struggle with at the start. My job coach supported me by encouraging me to do the physiological measurements training again when I started on the new ward and this helped me record observations correctly and confidently."
According to her job coach, "Elenid has worked really hard since September and it has been clear that her passion is caring for others. She needed some support and guidance regarding social cues such as when to approach someone for a conversation and what you can discuss with colleagues but Elenid took all the advice on board really well. The team monitored Elenid's progress and performance through frequent meetings with the ward staff and Elenid herself. We are very proud of how far Elenid has come, she is a natural with patients, they enjoy her company and her smile brightens up the ward."
Outside of work Elenid likes to hang out with her friends and spend time with family. She also enjoys visiting new places and planning journeys to different cities with friends. Joining the Engage to Change DFN Project SEARCH programme has had a big impact on Elenid's life and given her the opportunity to follow her dream:
"This job has had a great impact on my life. This time last year I would never have guessed that I would be working as a health care assistant at my local hospital. I am so proud to be going to work wearing my scrubs and looking after patients during this terrible time. The job is very rewarding and I am enjoying every second of it."
Well done Elenid!