Testimonials
In parents' and carers' own words, read about the impact of Engage to Change on families across Wales.
"On behalf of Owen, myself, and his dad, we just wanted to put in writing to you and your team how extremely grateful we are for all your efforts in finding Owen employment.
He is going into week four now at work and thoroughly enjoying it, the whole process from the very start has been better than we ever could have imagined.
The introductory home visits, helping him put together a CV, finding out his interests, his strengths and his weaknesses, accompanying him at his interview and of course the ongoing support he receives in the workplace.
It really has had such a positive effect on Owen (and it's only week 4). It has already given him such a confidence boost and has shown him he is very capable of gaining paid employment with the help you and your team provide.
From a parent's perspective I sincerely cannot express how grateful we are that you see the potential he has and that the excellent service you provide will help him fulfil meaningful paid employment for the future. I only hope your work continues to help so many other young adults in the future.
Many many thanks, Jayne"
– Jayne, Owen's mother in a thank-you message to ELITE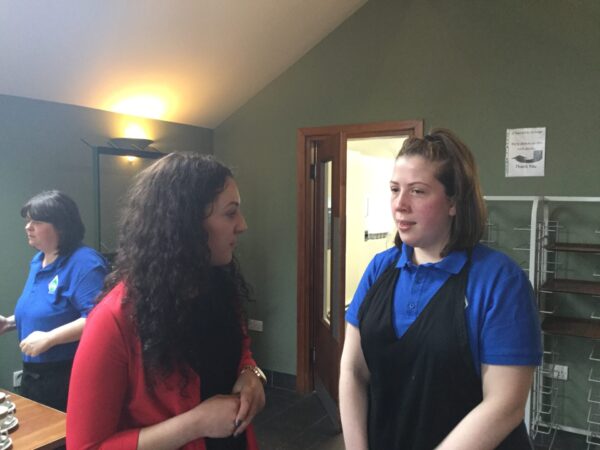 "Using Agoriad for me as a parent has helped us to take the step to get Mari into work. It was really hard to know how to talk to employers, what exactly to tell them, and to know how Mari would deal with a work situation without some kind of support in the workplace to begin with. So Agoriad has given critical support and peace of mind to us as parents as well.
Since Mari has started in the cafe, I see her using more skills at home….She's been happier in herself as a person, more confident, and using skills that she's learned in the workplace at home.
The communication between the people who are working on Engage to Change is very important, the more they talk to us the more they get to know Mari as a person and recognise her needs. They're ready to listen to our opinion as well about how she's coming along, because she's ready to move to the next step and learn more skills and Agoriad react to this straight away because there's a lot of talking between me and the people working on the project. They're ready to listen, which is key."
– Ruth, Mari's mother
"On completion of my son Callum Russell's work placement I would like to give my sincere thanks to Bev and Gill who supported him through his time in work. A new job for most of us can be difficult but for someone like Callum it can be practically impossible without a great deal of input. Callum was given complete and all-round support which gave him the confidence to achieve the competencies needed in a normal working environment. The extra miles given ensured that he has the necessary paperwork such as CV and references to move forward. Please pass on my sincere thanks once again."
– Wendy, Callum's mother, in a thank-you message to ELITE
"It's been good for Elen to be in work and to have support…. Her confidence has come on, it's been a big help to her that Bethan and Zoe [Agoriad] go into work to show Elen workplace rules, and how to behave at work with Autistic Spectrum Disorder. It's helped her to make different friends as well."
– Delyth, Elen's mother
"The service that has been provided for my son has been above and beyond anything we have experienced previously. This is seen within the small details. Getting a job is difficult as it is, but through this experience Owen has been provided with travel training, support through interviews and encouragement in the workplace. The best part of this process is the way in which Elite has been able to balance treating people like Owen as an individual adult whilst still maintaining a relationship with the parents/primary carers of these individuals.
As a family it has been the utmost joy to watch Owen's self esteem and self respect grow through his new experiences while knowing he is in a safe and supported environment. Most of all, it is thrilling to know that Owen has been given a better chance at future employment and to see him being accepted into what we would call the 'real world' and contributing to society."
– Jayne, Owen's mother