Kiara finds her niche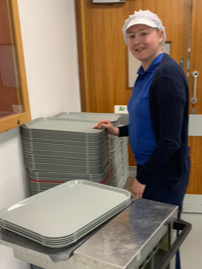 "My name is Kiara Gisbourne and I am currently working as a bank catering assistant at Ysbyty Gwynedd in Bangor during the pandemic. My favourite part of the job is serving food on the patient belt. Sometimes I'm in charge of the puddings, other days I will be on potatoes/chips or on the vegetables.
When I'm working on the patient belt I have to concentrate as we are serving food to more than 500 patients a day. I also enjoy clearing the dining room because I get to chat to the visitors, staff and patients that come down to the canteen."
Before joining the Engage to Change DFN Project SEARCH supported internship programme, Kiara was studying in Llangefni College doing the 'Step Up To Work' course. The course included a work experience placement in a local pub and according to Kiara, this was where her interest in customer service began. During her time at the pub, Kiara was serving customers, handling money, cleaning up etc. Having the opportunity to work in the catering department at Ysbyty Gwynedd, enabled Kiara to further develop the skills she had originally acquired in the pub.
"I started Project SEARCH in September 2019 and began my first rotation in administration. This was something new for me which I was excited to try but after a couple of weeks I realised the job wasn't for me. The Project Search team and I decided that the catering department would suit the skills that I have – and it definitely does!
When I started my rotation in the catering department in January I was quite scared and reluctant to push myself to try new tasks. But after the support from my job coach and my colleagues in the department I became more confident and could speak to customers, work on the dishwasher and the patient belt. Now I volunteer to try new things on a daily basis at work."
Through the Engage to Change DFN Project SEARCH programme, Kiara has been able to apply for different jobs outside the hospital and had an interview with a major coffee shop chain in Bangor. Kiara's job coach helped her to prepare for the interview and she received some really good feedback from the manager who said that she was confident, polite and was able to talk about her experiences very well.
Reflecting on the interview, Kiara explained "These were things that I'd learnt from attending the Project SEARCH job club as well as classroom time in the morning. Unfortunately due to the current situation, the coffee shop weren't able to get back to me but it was a good experience that has helped me get where I am now".
Although Kiara and the other Engage to Change DFN Project SEARCH interns were not due to graduate until June, in light of the current coronavirus crisis the hospital decided to employ several of the interns before graduation so Kiara officially started working as a catering assistant at Ysbyty Gwynedd in March.
Kiara outlines her working week in her new role: "It's a bank contract so the shifts are different every week. I usually work around 3 shifts a week, starting at 9am and finishing at 3pm. My main tasks in work include serving customers on the servery, cleaning the dining room, serving food on the patient belt, using the dishwasher and stocking up. I am much more confident in work now and can work on different stations on the patient belt and dishwasher on my own and at a good pace."
Kiara's job coach and the rest of the Engage to Change DFN Project SEARCH team are very proud of how far she has come since joining the programme in September: "She has blossomed into a really hard worker. She always displayed a can do attitude and was keen to give any internship a go. She expressed interest in administration at the very beginning so we gave her experience in this area. However, after a couple of weeks both the team and Kiara herself realised that this area of work didn't match her skill set."
During her first placement in administration, Kiara's job coach was supporting her on a daily basis to help her stay focused and motivated to complete tasks. However, Kiara struggled to concentrate and found some of the tasks quite boring. This all changed when Kiara switched to her second rotation in January when she was placed in the catering department. According to Kiara's job coach, "This is definitely when we found her niche!".
Her people skills are clearly one of the reasons Kiara is so suited to her role, as her job coach explains: "Kiara is a natural with other people and is so pleasant and polite. When put in a team situation she is always willing to help but was sometimes quite nervous when attempting tasks independently. But now Kiara is willing to give any task a go! She is highly motivated and will even feel quite disheartened when she hasn't got a shift. Kiara has now put her name down to be called in to work last minute to cover shifts. She is really eager to gain more experience and progress within the catering department."
Kiara is clearly enjoying her role in the catering department and is already looking to the future: "Working in the hospital has taught me a lot of different skills such as how to work well in a team, communicating with others and improved my concentration skills. I enjoy being busy, which makes the canteen the perfect work environment for me. My goal for the future is to continue working in the hospital environment and build myself up using the experiences that I am getting."