Gavin
Meet Gavin, a young man who started his paid placement in October 2016 as part of the Engage to Change project. Gavin has been working as an Administrative Assistant at the offices of care provider GRS Care Limited in Swansea for 15 hours a week.
Gavin began his Engage to Change journey in September 2016, when he met with Gillian Rees and Andrew Hedge of ELITE Supported Employment to complete the referral and vocational profiling process. Gillian was confident that they would be able to find employment for Gavin, whom she describes as "a polite, well-mannered young man". Gavin had been actively seeking employment, gaining skills and experience through volunteering weekly at the local hospital's radio station and in an office. Gavin has the support of his mother, and both were excited to find out about the Engage to Change project and how it could help him find employment.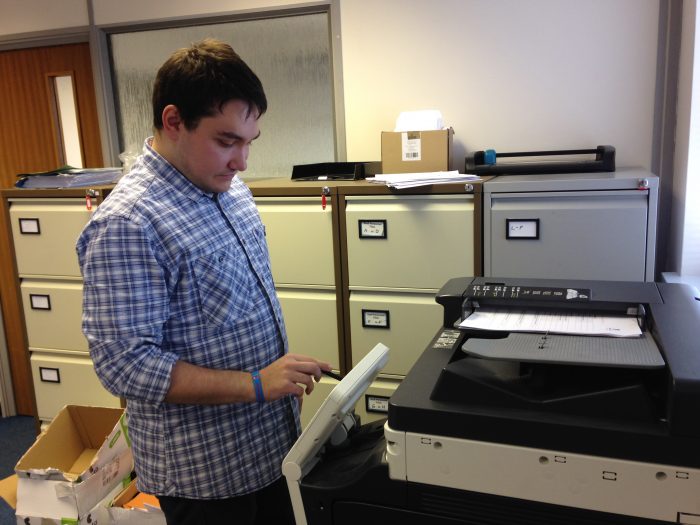 GRS Care Limited is a leading provider of numerous services across South Wales aiming to secure more choice in sustaining independence for those with learning disabilities through clinically-led individual support plans. As part of his role at GRS, Gavin has been integral to helping the company's new office premises at Llansamlet Industrial Estate go paperless. His duties and responsibilities include scanning all paperwork, answering the intercom to allow visitors into the building, assembling new Health and Safety files to be dispatched to GRS' care homes, and arranging and replenishing the mail and photocopying trays. Gavin's employer Lucy at GRS says that "Gavin is doing really well, settled in and is part of our team". In fact, Gavin has been allocated his own desk in the office and his review form is glowing with praise. His manager shares that "he has become an integral part of the office; he has integrated into our office well and has a good working relationship with other staff".
Gavin himself says "I am enjoying it and I am busy, scanning and sorting the paperwork". Gavin's job coach Gillian echoes his manager's words and emphasises how appreciated he is by all the staff in the office for his work. During his paid placement, Gavin has continued with his voluntary work at the hospital radio station. He has also completed his work experience workbook and is working towards earning an Agored Cymru qualification.