Jonathan Heads Back to the Office
Jonathan is a polite, professional young man who has Autism and lives in Killay, Swansea.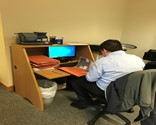 Prior to joining the Engage to Change project he had had a paid job and since leaving school had undertaking a four-week work experience in HM Revenue and Customs. Jonathan had  a number of challenges to overcome, as he had anxiety and speech and language difficulties, which means he finds it difficult to start a conversation with others.
Following his Initial Assessment, a voluntary placement was found at Bikeability, which is within walking distance of his home.  He received support from his Employment Advisor to undertake the role of inputting data, onto their computer system.  He did well within his volunteering role and gained valuable experience.  This enabled ELITE to secure a 26 week paid placement, in Enterprise 2000 for Jonathan, working as an Admin Assistant.  In this role he logged all the component parts from the appliances which were stored in the warehouse and saved them in the computer stock control system. He did so well within this role that the Managing Director recommended him for a job in Total Building control.
Jonathan started his employment there on the 16th of March 2020 but only worked for one week, before Lockdown measures forced the office to close.  Due to the nature of his job, Jonathan was unable to work from home, as his role required him to scan confidential documents onto the computer system. He remained concerned but hopeful throughout the Lockdown that he would be able to return to the job at some point and was delighted when he was asked to come back into the office on 23rd August 2021.
Jonathan said:
"I am happy to get out of the house and back into the office. It has been a long time"
Jonathan was soon settled into the job and the Office Manager, Kerry commented that:
"We are all glad to have Jonathan back in the office, he is starting to 'come out of his shell'.  It is lovely to see him chatting to the other staff and last week he brought some chocolates in for us all to share. Once a week we have lunch brought in from a local restaurant and next week it will be Jonathan's choice."
 Employment Advisor Gillian Rees Said: "Jonathan has been eager to return to the office, even though he was concerned about the Covid-19 Pandemic he has taken every precaution to ensure that he was ready and willing to go back to work as soon as it was practical, He is an asset to the office, and I am delighted with his progress."