Supported internships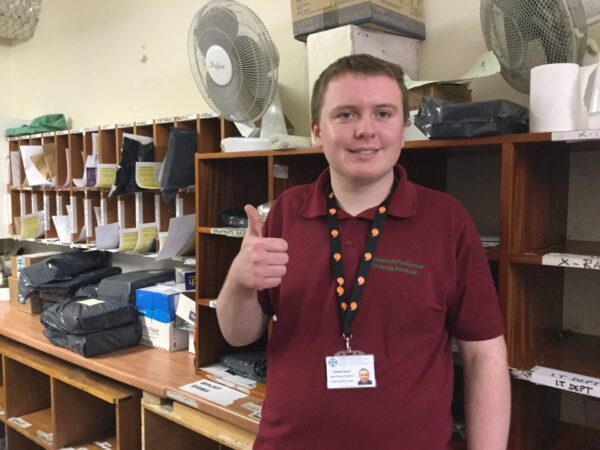 A supported internship programme is a 1-year work preparation programme for young people with a learning difficulty, learning disability and/or autism. Young people who want to work can apply to join the programme as part of their transition from education to work. The programme uses a person-centred approach, working closely with the young person and others in their life, with a clear focus on employment. The programme uses a combination of college-based training and learning, career investigation, and hands-on employer-based skills training.
Partnership
The success of the supported internship programme relies on a 3-way partnership between a host employer, an education provider and a supported employment agency. The power of the supported internship model is its flexibility. Large businesses such as local authorities, health boards and universities can have specific internship teams developed to suit their business needs. Smaller businesses can also benefit by being part of a network of employers offering placements as part of a supported internship programme delivered across a local area.
Partnership roles:
Host business/businesses offer a variety of internship opportunities throughout their organisations. Encouraging and supporting staff to become workplace mentors creates positive outcomes. They may provide an on-site base room and resources such as IT equipment.
College provides student interns from the local area. Dedicated members of college staff develop, co-ordinate and deliver the relevant programme, curriculum and accredited qualifications. They may also provide an on-site base room and resources such as IT equipment.
Supported employment agency provides job coaching and job development for interns at the host business and in their paid jobs. They may also provide employment related training and accreditation, external employer engagement, welfare benefits advice and support.
Programme format
A supported internship programme will usually involve 8-12 interns per academic year. The aim is to provide a variety of on-site work-based experiences that allow the interns to explore and assess their abilities and interests in various roles. There is real flexibility in how this is carried out, for example in DFN Project SEARCH sites there are usually 2 or 3 different placements with the host employer during the academic year. Other models may focus on just 1 employment area that interns are interested in.
The design of an Engage to Change supported internship programme can be flexible and tailored to the local area and the learners' needs. For example, a range of host businesses might offer placements across a rural area as part of a joint programme rather than 1 large host employer that might be difficult to get to. Another example would be adjusting the number of days or hours per week of an intern's placement according to their needs and circumstances.
Engage to Change supported internship programmes
Engage to Change currently operates several different supported internship models across Wales funded by the National Lottery Community Fund and Welsh Government:
3 sites in collaboration with DFN Project SEARCH:

Cardiff University with Cardiff and Vale College and ELITE Supported Employment
Cwm Taf University Health Board with Bridgend College and ELITE Supported Employment
Betsi Cadwalader University Health Board with Grŵp Llandrillo Menai and Agoriad Cyf.

Gateway to Employment programme in partnership with Coleg y Cymoedd, ELITE Supported Employment and Rhondda Cynon Taf County Borough Council (with additional funding from Welsh Government Creative Solutions).
South Gwynedd rural internship with Grŵp Llandrillo Menai, Agoriad Cyf and a variety of local employers.
Gwent internship programme in partnership with Coleg Gwent, ELITE Supported Employment and Aneurin Bevan University Health Board.